The World Without Zero
Client:
Coca Cola Romania
Synopsis: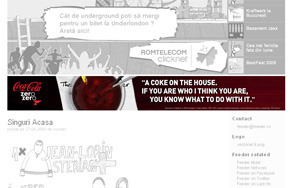 The purpose of this banner was to activate people that met the user's profile which we wanted to engage in the campaign 'The World Without Zero'.
About the Campaign:
The campaign was an online activation in the partnership between Coca-Cola Zero and James Bond movie 'Quantum of Solace'. It was a mission that users had to solve from quest to quest, throughout the Internet and through more than 20 quests.
This banner recruited users that were to engage in this mission and to be able to make it to the end of the mission, users who respond to intellectual challenge, quests and action.
The banner was actually the first step in the mission.
Requirements:
Flash Player 9